Arts
"Culture is the arts elevated to a set of beliefs." – Thomas Wolfe
A life lived without the comfort of the arts is a life half-lived! At The HPS, we train our students to work on developing all sides of themselves, which includes indulging in the arts.
Art education is a subject under the ICSE Board syllabus. Middle school students enjoy art classes and learn skills of drawing, painting, origami and clay modelling. They learn to make the best out of waste articles, 3D models and paper craft. Senior students of class 9 and 10 take Art as optional subject, and are trained for ICSE board exam. They are trained for Paper 1-Still Life and Paper 2-Nature Study. ISC students have taken Art as an optional subject. Folk art workshops are conducted in collaboration with SPICMACAY. Inter-house drawing and painting competitions are conducted. Students are encouraged to take part in art competitions conducted by various organizations.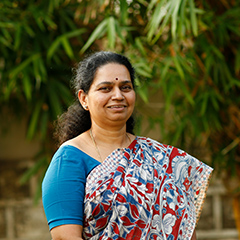 Mrs Pratibha Kulkarni
TGT-Art
Head of Department
Educational Qualifications: GD Art
Teaching Responsibilities: Classes 6-12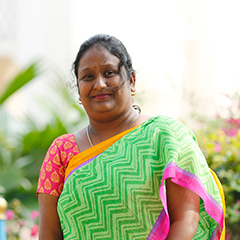 Educational Qualifications: MFA in Applied Art
Teaching Responsibilities: Classes 6-12
SUPW trains students on learning subsidiary craft and community service in an academic year.
We have classified particular topics for each class junior classes – Classes 6,7,8. They learn moral values like respect and empathy. They learn life skills where they learn by doing, thinking and reasoning, being patient and focused, while working practically on material and making a product.
Class 7 learn fibres and fabrics. They also work on crafts like weaving, needlework and embroidery.
Class 8 learn about health, hygiene and first aid. They work on handicrafts like construction of 3D square box, 3D star box, and more complicated models like making a cowboy hat, animal face mask, etc.
Class 9 learn home furnishing and handicrafts like making types of lamp shades and cloth bags.
Class 10 learn about money management and structure of banking, and handicrafts by making file-folders and tie n' dye cushion covers.
Class 11 & 12 do community service, and learn cooking, candle making, and making complicated models with bread craft or clay like night lamps/makrum pot-holders etc.
Department of SUPW also takes the students to different organizations for social services. We were also the department to take students to NASA.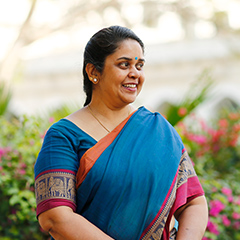 Mrs. Manisha Sinha
TGT-SUPW
Head of Department
Educational Qualifications: MFA, B.Ed
Teaching Responsibilities: Classes 6-11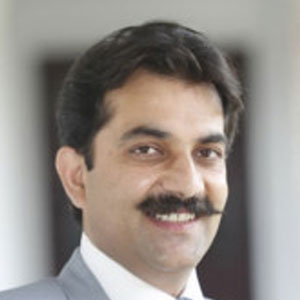 Mr. Arul Mani
HOD English Dept.
Educational Qualifications:
M.Sc, B.Ed
Specialization:
Astronomy & AstroPhysics
Teaching Responsibilities:
Head of the Department, Classes taught: 6, 9, 10 & 12
Co ordinator for ICSE & ISC exams
Areas of Interest :
Quantum Mechanics, Physical & Quantum Optics including Lasers
Commissioned in 2017, the Ramandeep Samra Center for Music and Performing Arts has acoustically efficient studios for the teaching and performance of vocal and instrumental music in both Indian and Western traditions. It has rehearsal rooms for Dramatics, a sound recording studio, choir gallery and an impressive Amphitheatre for outdoor stage/street performances.
Research has proved that learning music facilitates the study of other subjects and the center for music and performing arts gives our students a gift that will last them a lifetime.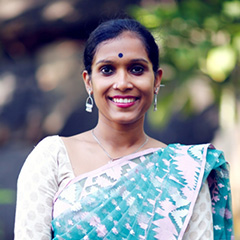 Mrs. Subbulakshmi
TGT-Dance
Educational Qualifications: PG (Bharatanatyam),M.A. (Public Personal Management)
Teaching Responsibilities:  Middle & Senior School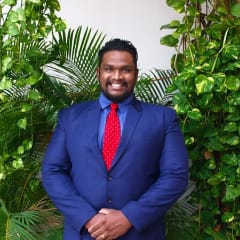 Mr. Edla Emmanuel Praveen Kumar
TGT Music
Educational Qualifications: B. Tech Mechanical Engineering,Grade 8 – Vocals (Trinity Rock and Pop)
Teaching Responsibilities : Classes 6 to 12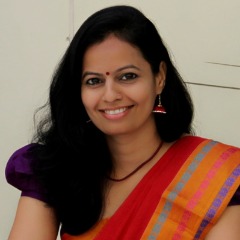 Ms. Sowmya Ram H
(TGT Theatre Arts, Drama & Communication skills)
IGCSE
Educational Qualifications: LICENTIATE TRINITY COLLEGE LONDON for Speech and Drama, Diploma in DRAMA THERAPY from Velvi for Arts ,M.A COMMUNICATION from Central University of Hyderabad
Teaching Responsibilities: Classes Classes 4 to 8