Psychology
"The highest form of knowledge is empathy." – Bill Bullard
When a student is at HPS Begumpet, they are at home. This includes feeling at one with the surroundings, their teachers and their activities. A vital part of creating a curriculum for students is the integration of counselling services for the students. Far too often, younger people feel cooped up with their emotions, and are unable to utilize any outlet, if they even have one available. At school, we practice radical empathy, providing the safest of spaces for a child to be themselves, to communicate and to thrive.
The mission of the Psychology Department is to bring awareness and impart knowledge on understanding of psychology and its applications. The curriculum prescribed by the ISC includes not only theory but also practicum that cultivates in the students' professional ethics, a sense of social responsibility, cultural sensitivity, and good citizenship in a globalised world.
Students will demonstrate knowledge, skills, and values consistent with the application of psychology like familiarity with the major concepts, theoretical perspectives and historical trends in psychology, understand and apply basic research methods in psychology, including research design, data analysis, interpretation, use critical and creative thinking, , and, when possible, the scientific approach to solve problems related to behaviour and mental processes. develop insight into their own and others' behaviour and mental processes and apply effective strategies for self-management and self-improvement.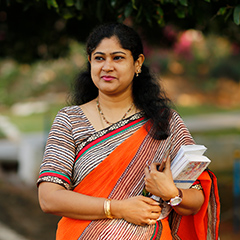 Mrs. Charlotte Raj
Psychological Counsellor
Educational Qualifications: M.A. Psychology, M.A. in Social Work (Medical & Psychiatry)
Teaching Responsibilities: Classes 11 – 12