Yoga
"Yoga is a science of well-being, a science of youthfulness, science of integrating body, mind and soul." – Amit Ray
Students in the Hyderabad Public School are introduced to start learning Yoga from class 1 in primary school and continue in senior school. HPS Begumpet is only the school in South India which has introduced Yoga as an optional subject in the year 2009 for the classes 9 and 10 ICSE.
In the optional subject the students are introduced to Astanga Yoga of Patanjali and some of the most important Yoga Sutras along with Asanas, Pranayama and meditation,
Yoga optional subject has two papers theory along with biology objective 40 marks + 60 theory =100 marks and Asanas practical 100 marks Total 200 marks divided by 2 (two) for final marks.
Practicing yoga from the childhood helps the students to develop stress managing skills, healthy body and a peaceful mind.
Our school students participated in different Yoga competitions like (ASISC, IPSC, Distric level etc.) and won many medals and prizes.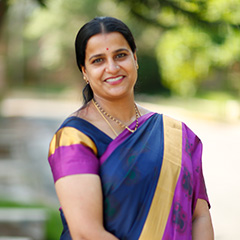 Mrs Santhoshini
Incharge Yoga Department
Educational Qualifications: M.com, B.Ed, Pg in yoga , Tyttc and M.Sc in yoga
Teaching Responsibilities: Classes 6-10 Educational Qualifications: M.COM, B.Ed, International teacher training in yoga from (J&K)
Teaching Responsibilities: Classes 6 – 12