Principal's Desk
From the Principal's desk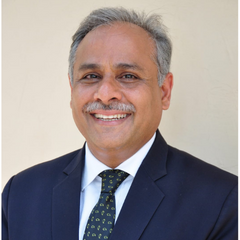 Dr Madhav Deo Saraswat
Principal
Qualification: M.A(Hindi), M A(English), B Ed., P.hd
'Educating the mind without educating the heart is no education at all'.
We at The Hyderabad Public School, Begumpet, believe in Education with a vision to make a difference. I believe in engineering a warm, caring, stimulating and challenging environment in which our students can learn and develop. The aim is to provide education which explores and strengthens the innate potential in every individual. To do so, we will continue to create a happy, nurturing ambience which enriches the intellectual, emotional and physical development of our students. Emphasis is thus placed on promoting individual achievement, building a sense of responsibility and ultimately securing a strong sense of identity along with sensitivity for the community.
School provides unmatched qualitative education where learning is child-centric and activity based. We enable them to bring out their best in a progressive, cooperative yet competitive environment in every field – be it Academics, Sports or Co-curricular activities.
Outside the classroom, students also learn valuable lessons such as positive social skills, polite behaviour and strong work ethics. This is achieved through our continuously developing infrastructural facilities, enabling cultural environment and most importantly, efficient and effective faculty. We aim to empower each child to be a curious learner, a critical thinker and a valuable member of an ever-changing global society.
With the turn of the academic calendar, the commitment to take the school to greater heights is more firmly established. Undoubtedly, this would require hard work, perseverance and a firm belief in the adage – "Yes, we can". Armed with committed faculty and dedicated focus we will surge forth to accomplish the vision of our preceding stalwarts who set the tone and tempo for the Vision of the school.
To the students, I have but one message to give – Dream big and work towards your goal.
We strive to see your small beginnings culminate in unparalleled success. And success comes to those who strive for it. You stepped into the portals of this great institution with fresh thoughts, lofty aims, high hopes, and exalted aspirations. I assure you that your ambitions will be accomplished through our guidance and a vision that spearheads the belief that to soar is your destiny!
Let us join hands to take-off on this fresh learning journey to higher orbits of excellence!
Dr Madhav Deo Saraswat