Principal's Desk
From the Principal's desk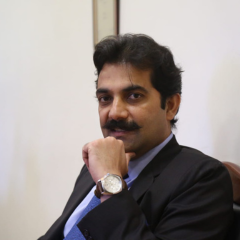 Dear Students, Parents, Teachers and Staff,
"Success is no accident. It is hard work, perseverance, learning, studying, sacrifice and most of all, love of what you are doing or learning to do." – Pele
I am delighted to welcome you as we embark on the commemorative journey of our esteemed institution's centenary year. This remarkable milestone is a testament to our enduring commitment to education and it fills us with immense pride and joy. As we traverse the path of our school community's past, present, and future, it is time to reflect on the sweet fruit borne of the seeds planted a century ago.
Over the past hundred years, our school has been a steadfast beacon of knowledge, nurturing generations of students and equipping them to face life's diverse challenges and successes- a small step in 1923 to giant strides that have transformed us into a renowned educational institution that ceaselessly upholds core values of excellence, integrity, and compassion.
This centenary year is a poignant and priceless opportunity to honor the visionaries who laid the foundations of our school and the myriad individuals who contributed to its growth and success. It's a moment to reminisce on our collective achievements, the bonds of friendships formed, and the memories cherished during the course of this outstanding journey.
As we commemorate this landmark year, our commitment to our mission remains unwavering. We strive to provide a quality education that nurtures young minds into confident, responsible, and empathetic global citizens. Our devoted team of educators continues to inspire and guide students, equipping them with the knowledge, skills, and values that will shape their futures.
Throughout this special year, we will host an array of events, activities, and initiatives to honor our centenary. We will launch academic programs, organize sports contests, cultural festivals, and community outreach initiatives that truly embody the spirit of our institution. We eagerly await the participation of our alumni, an integral part of our school's legacy, in these celebrations.
We invite every member of our community to actively partake in these celebrations and utilize this unique occasion to further fortify our bonds as a school community. Let's respect and cherish the traditions that have defined us while also fostering innovation and progress as we envision the next hundred years of our journey.
Our heartfelt gratitude goes out to all the parents, teachers, and staff for their unwavering support and dedication. Your collective efforts have been instrumental in molding our school into the thriving educational institution it is today. We look forward to fostering this partnership in the years to come.
To our teachers: we exhort you to evaluate your teaching, keep your mind open, update your skill set and keep away from negative conversations. Let's make this year special for ourselves and the school.
To our students, we encourage you to see this centenary year as a period of inspiration and introspection. You are the torchbearers of our legacy, and your dreams and aspirations will shape our school's future. Treasure every memory you create, every friendship you nurture, and every piece of knowledge you gain, as they will forever be part of your unique journey.
As we embark on this extraordinary centenary year, let's rejoice in our past, embrace our present, and lay a strong foundation for a future filled with limitless possibilities. Together, we will continue to uphold our cherished values and traditions, thus empowering future generations.
Wishing you all a memorable centenary year!