Principal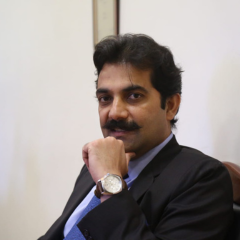 Dr. Skand Bali, an educationist since 2000 has joined The Hyderabad Public School, Begumpet after a stint as founding Head of the Adani International School, Ahmedabad. He had earlier worked as the Principal of The Hyderabad Public School, Begumpet after serving the GD Goenka World School, Gurugram, as its principal.
Dr Bali's illustrious career also includes 12 years at the Doon School, Dehradun and 5 years at the Army Public School Dagshai.
Dr. Bali's role as an effective school educator dynamically invested and instrumental in leading institutions to the pinnacle of excellence is borne out by the number of awards bestowed on him.
He has been the recipient of two long service awards, three Triennial service awards, two IAYP India recognition awards. Progressive Principal Award, Iconic Principal Changing the World Award, Ideal Principal Award, Outstanding School leader Award, Principal of the Year Award, Youngest Principal Award, Educational Reformer Award, Nation Builder Award, Acharya Devo Bhava Award, Leader for Change Award, Top 50 Emerging Indian Icons Award, Outstanding leadership Principal of the Year Award, Future 50 Leaders Shaping Success Award, the Global Edu Icon Award and Best Principal of the Year Award, 2020.
Dr. Bali is also an accomplished writer having authored several text books in Geography, his field of expertise.
Dr. Bali is a progressive leader who believes that inclusion, integrity and insight are keys to good administration. He is a firm believer in the infinite potential of the young minds he mentors and adheres to the principle that education is incomplete without incorporating core values within the system. He believes in providing an inclusive and nurturing environment for the students, building collaborative partnerships between students, teachers, parents and the community based on respect and mutual understanding.
Dr. Bali possesses a clear vision and a strong sense of purpose. He is a self-driven leader with excellent communication and interpersonal skills. As a person who believes in empowering those around him, Dr. Bali has a passion for discovering unique and compelling ways in which he can improve the learning as well as social environment for the entire community.