Infrastructure
One of the oldest educational institutions in the country in the youngest state of the country.
The Hyderabad Public School is a co-educational, day & residential school in Hyderabad. One of the oldest educational institutions in the country in the youngest state of the country – it is this range that best defines The Hyderabad Public School.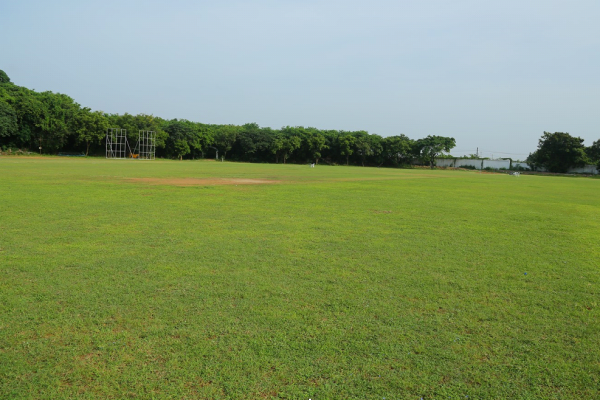 Nestled in the heart of nature within approximately 122 acres, The Hyderabad Public School (HPS) offers a captivating blend of academic and residential spaces. The campus, surrounded by natural hillocks, rocks, capes, and an age-old canopy of trees, seamlessly integrates architectural aesthetics with the splendor of the natural surroundings.
Beyond its academic role, the campus serves as a rainwater recharging catchment, playing a crucial role in benefiting the urban ward it belongs to. The green belts within the campus, offering tree-lined pathways, scenic vistas, natural rock formations, and a rich habitat for diverse wildlife, create an idyllic environment for both students and creatures to coexist in harmony, enhancing the holistic development of individuals.
Spreads strategically across the expanse are staff quarters and ancillary buildings, fortified with modern security measures, augment the campus layout, ensuring safety and harmony within. Noteworthy among them is the Principal's Bungalow, an elegant residence designed in the classical Doric style using stone and lime, embodying the essence of timeless architecture. The Bradnock Theatre, with its open-air design and a seating capacity of 800, graces the campus, providing an ideal venue for major drama and street performances amidst the backdrop of natural hillocks and lush trees, ensuring an immersive experience for the audience.
Athletics – Standard 400m track with facilities like shot-put ring, javelin field, disc-throw ring, long jump pit, high jump pit, and many more.
Badminton – 4 outdoor badminton courts
Basketball – 2 synthetic courts and 4 hard courts
Cricket – 6 nets with bowling machine, 1 turf wicket cricket field, 2 matting wicket cricket fields
Equestrian – Full-fledged stable, 9 horses.
Football – 2 standard football fields, 7 mini fields
Hockey – 2 hockey fields
Kabbadi – 4 practice courts
KHO-KHO – 1 kho-kho field
Swimming – 50m standard pool under construction
Shooting – Indoor 10m shooting range with 10 stations
Table Tennis – Indoor hall with 4 tables
Tennicoit – 4 clay courts
Tennis – 2 synthetic courts, 3 clay courts
Volleyball – 4 clay courts
Throwball – 2 clay courts
Yoga – 1 indoor hall
1 circuit of Obstacle Course with 10 stations
In-house cross-country track of 3km
Multi-station gymnasium
Turner's Library or Fehmi Ali Reading Room, is a grand building with dedicated sections for fiction, reference books, and subjects in various languages. Named after a former principal instrumental in its development, it houses a collection of over 12,000 books classified using the Melvil Dewey system. Catering to students from classes 6 to 12, it offers a wide array of reference books, encyclopedias, and diverse fictional and non-fictional books in multiple languages. The library diligently updates its collection annually, adding new books to meet the students' needs. Additionally, an e-library was inaugurated in 2019, providing digital resources and seating for 42 students. The library also maintains a collection of CDs and albums, preserving memories of various school activities and events. To enhance reading experiences, the library subscribes to newspapers, magazines, and holds book reviews and book fairs, encouraging a love for reading among the students.
The library houses a collection of over 12,000 books ranging from genres like Fiction to Quizzing to Yoga, SUPW and Almanacs. Some subjects we cover with reference books are Social Science, Geography, Economics, Astronomy, Commerce, Business Studies, Electronics, Botany, Biology, Zoology History, Mathematics, Physics and Chemistry. We also stock books in languages like Urdu, Sanskrit, Telugu, Hindi, and French. Our section of Journals covers 24 magazines and 17 newspapers of different languages.
To further boost the reading habits of students, the library conducts different competitions and activities like Book Reviews, Author Studies, Book Talks, Storytelling & Chat Time.
Vincent Esch, a British architect, was appointed to design the campus using the Western architectural grammar of formal symmetry, articulated in the vocals of the Osmanian style which had evolved from an earlier Deccani idiom of vernacular built form. Its balanced composition of magnificent domes, turrets, arcades and serrated parapets make The Hyderabad Public School one of the city's heritage landmarks, a portrait of its cultural matrix. The structures are assiduously maintained in their pristine state and were twice chosen to receive the prestigious INTACH HERITAGE AWARD for historic conservation. The Shaheen has a vast hall at its core, flanked by 11th and 12th classrooms and the Principal's secretariat. Behind it, reached by a grand, ascending staircase of the Jagirdars' Block (50,000sft) which houses dormitories, on two floors of its extended wings.
Spread over 3 floors and covering 19,000sft, the John Kempe Block and its subsequently annexured extension house the senior school class rooms, science and computer labs. The Durand and Watsa Blocks of 7,500sft have recently been doubled in capacity and the extension has bound them to the unique heritage style of design on the campus. Commissioned in 2017, the Ramandeep Samra Center for Music and Performing Arts has acoustically efficient studios for the teaching and performance of vocal and instrumental music in both Indian and Western traditions. It has rehearsal rooms for dramatics, a sound recording studio, choir gallery and an impressive amphitheatre for outdoor stage/street performances.
The School Hospital, named after one of our former Principals Mr Shivraj Bahadur is currently under renovation and will be upgraded with consulting, casualty and recuperative facilities. It is in a calm, naturally therapeutic location on the campus.
An independent and more recent Kuruvilla Jacob Block houses academic activities in about 36,000sft. Although it is not in the heritage building, it nevertheless, has a unique identity through its post-colonial institutional design. The school has reinstituted its Pre-primary and this edutainment is provided in a 16,000sft building called the Purohit Block built around a beautifully landscaped quadrangle.
The dining hall, a masterpiece of space efficiency, was inaugurated by Shri. S. Jaypal Reddy, MP, in February 2014. Spanning over 17,860 square feet, this architectural gem features sloped roofs, robust brick walls, and a height ranging from 22 feet at the corners to an impressive 27 feet at the center. The ceiling, adorned with powder-coated GI sheets and 50mm thick heat insulation, ensures a pleasant dining environment sans central column, enhancing the overall experience. Divided into a 15,456 square feet dining hall and a 2,404 square feet front lobby with a hand wash area strategically located adjacent to the kitchen, it effortlessly serves 1,400 individuals. Furnished with durable stainless-steel tables and benches, it fosters a sense of togetherness, becoming a central hub for community dining, gatherings, and meaningful conversations since its inauguration.
The school believes that the learning environment has a profound impact on the development of the teaching as well as learning community. The school provides high quality infrastructure and spaces as learning material for impactful learning. The three science labs got a face lift with new state-of-the-art facilities. The seating capacity is about 50-60 students at a time. The individual work space, storage for students, plug points for every table provides hands on experience to individual student. The labs which are a harmonious blend of the school's rich heritage and modernity are bound to inspire and motivate students to develop a scientific temperament and innovation mindset.
The state-of-the-art Biology laboratory located in Senior Block is well equipped to carry out practical classes for classes 9 to 12 and also supports activity based teaching. It provides extensive range of facilities such microscopes of different magnification, Laminar Flow, autoclave, Centrifuge, pH meter, the human skeleton, assorted bones of various animals and specimens – both bottle & plastic embedded. A ceiling mounted projection system allows digital learning . The Middle School Common Science laboratory is used by the Biology teachers to demonstrate and provide hands on activities supporting teaching for Classes 6 to 8. Both laboratories give access to students, an experience leading to development of scientific temperament in safe and ergonomic workspace.
The spacious lab is well furnished, tiled and well ventilated.  The laboratory has a staff room and store room of its own. It can now accommodate upto 60 students at a time. Individual work space is provided to all students. The lab is equipped with all the necessary equipment to carry out practical and activity based teaching up to the ISC level.
These new facilities will surely boost a scientific temperament and innovative mindset in the students.
The Physics Lab is a place where students find answers to their questions by performing procedures, collecting and analyzing data, gaining hands on experience and acquiring scientific habits that help them engage in active learning. The Physics Lab is geared towards project based learning and can accommodate 45 students at a time. Other than the apparatus specified by the Council the Physics Lab has equipment that is the envy of many Colleges/Universities. Travelling Microscopes, Spectrometers, a Terrestrial Telescope, Newton's Rings Apparatus. Polari meter, along with student made working models of a steam engine, stirling engine, Fire alarm, water level indicator, Van De Graff Generator, etc.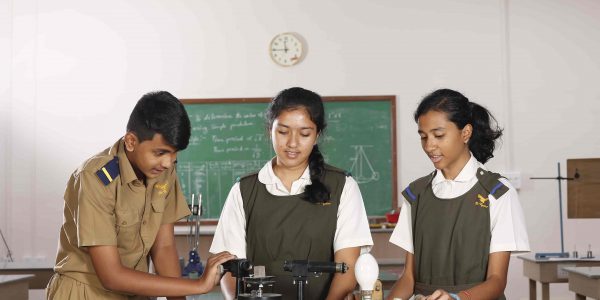 HPS Begumpet has fully functional four computer labs at Senior School with a capacity of 60 computers, Middle School with 40 computers, Primary School with 38 computers and E-Library with 40 computers.
The computer labs are equipped with HP thin clients, projectors and multimedia devices. All the computers are connected to internet.
These labs are used for computer practical classes, personalised learning tools for other subjects apart from online tests/surveys/competitions. Students learn various tools/software like logo, scratch, Java with Bluej, MS office suite,  Adobe suite, App development software, Robotics/Raspberry pi etc.
All the software used are genuine and school propagates ethical practices of use and share of resources. The students of classes 8 to 12 learn high level programming in JAVA.
The students use the lab as per schedule and staff as per requirement.
A small digital resource centre of 10 computers is being operated in the boarding house for the usage of hostelers. Two resource centres are made available in  Primary block and Science block for teachers usage.
The infirmary is a well-equipped medical facility that caters to the health and well-being of the school's students and staff. With a capacity of 14 beds, the infirmary is managed by a dedicated medical professional, Dr. G. Anitha, who oversees the healthcare needs of the school.
Assisting Dr. Anitha are two experienced staff nurses who provide round-the-clock care and assistance. An attendee and a matron support the medical team, ensuring a smooth and efficient operation of the infirmary.
The infirmary serves as a crucial support system, promptly addressing any health concerns or emergencies that may arise within the school premises.
In addition to this, HPS Begumpet has a partnership with Vivekananda Hospital, Begumpet. In case of an emergency, parents are immediately informed, and it's with their consent, the child is immediately shifted to Vivekananda Hospital in the HPS ambulance.
In 2017, this dynamic space underwent a comprehensive renovation, embracing crucial upgrades and modernizations. The gymnasium, a space spanning 1,650 square feet, is tailored to accommodate 10-15 students comfortably. It houses a treadmill, cross trainer, cycle, multi gym, dumbles, plyometric, bench press, and weight training station. This building was inaugurated by Shri P. Jagadish Reddy, President of the HPS Society.
The state-of-the-art shooting range on a sprawling expanse of 3,410 square feet is meticulously designed to cater to the unique needs of aspiring marksmen. Having undergone significant renovations in 2018, this space prioritizes functionality and comfort, offering a conducive environment for honing shooting skills. The inauguration by Shri P. Jagadish Reddy, President of HPS Society, stands as a testament to our commitment. With a 10-meter air rifle and air pistols, complemented by ten firing points equipped with both manual and electronic targets, this fully air-conditioned facility is replete with coaching areas and dressing rooms for boys and girls. Additionally, a parent's lounge adds to the overall welcoming atmosphere. Notably, our range has proudly produced multiple national-level medal winners and skilled shooters.
The expansive open-air theatre, sprawling across an impressive 42,500 square feet, can accommodate up to 4,000 enthusiastic students and audience members. A harmonious blend of traditional charm and cutting-edge technology, our theatre promises an immersive experience for all. The stage comes to life with a carefully curated lighting setup, combining the essence of both normal and LED lights, creating the perfect ambiance for captivating performances and engaging events. This dynamic space is a platform for diverse cultural and artistic performances—be it a soulful musical concert, a gripping theatrical production, an enchanting dance performance, or an inspirational talk. The theatre stands as a vibrant and welcoming arena, embracing and celebrating all art forms.
The school boasts of an Olympic-sized swimming pool stretching 50 meters with eight lanes, nestled within a sprawling area of 31,500 square feet. Inaugurated by Mrs. Smt. Vakati Karuna, Chairman of the Board of Governors, on 31st March 2023, this facility is tailored to accommodate 350 students and is a haven for aquatic sports enthusiasts. The complex encompasses modern amenities, including segregated washrooms, coach rooms, equipment rooms, and a security room to ensure a secure and convenient environment. Equipped with a biometric entry system and seating for up to 320 spectators, this complex is primed to host various aquatic events. With meticulous attention to safety, the facility integrates CCTV surveillance, lifeguards, and a dedicated team of coaches, making it an ideal destination for swimmers of all levels, from beginners to aspiring Olympic athletes.
The equine shelter is a true marvel where the safety, comfort, and well-being of 12 equine residents reign supreme. Situated within a 2,500 square feet plinth area, this space embodies our love and care for these magnificent creatures, prioritizing their health, and happiness and creating a true home for them. In 2016, a comprehensive renovation revitalized the space, focusing on upgrading facilities to enhance the horses' quality of life. The inauguration, graced by Shri Papa Rao, Advisor to the Chief Minister of Telangana, signifies our unwavering dedication to providing the best care for our equine companions.